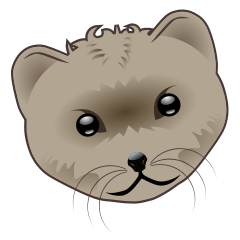 ---
Quick Links
FerretOS Nightly Builds • ReactOS Project • ReactOS Wiki
What is FerretOS?
FerretOS™ is an Open Source effort to develop a quality operating system that is compatible with applications and drivers written for the Microsoft® Windows™ NT family of operating systems (NT4, 2000, XP, 2003, Vista, Seven), that is based on ReactOS.
The FerretOS project, although currently focused on Windows Server 2003 compatibility, is always keeping an eye toward compatibility with Windows Vista and future Windows NT releases.
The code of FerretOS is licensed under GNU GPL 2.0.
Building
To build the system it is currently strongly advised to use the ReactOS Build Environment (RosBE). Up-to-date versions for Windows and for Unix/GNU-Linux are available from ReactOS download page at: "Build Environment".
Alternatively one can use Microsoft Visual C++ (MSVC) version 2015+. Building with MSVC is covered here: "Visual Studio or Microsoft Visual C++".
See "Building ReactOS" article for more details.
Binaries
To build FerretOS you must run the configure script in the directory you want to have your build files. Choose configure.cmd or configure.sh depending on your system. Then run ninja <modulename> to build a module you want or just ninja to build all modules.
Bootable images
To build a bootable CD image run ninja bootcd or ninja livecd from the build directory. This will create a CD image with a filename bootcd.iso or livecd.iso respectively.
You can always download fresh binary builds of bootable images from the "Daily builds" page.
Installing
By default, FerretOS currently can only be installed on a machine that has a FAT16, FAT32 or BTRFS partition as the active (bootable) partition. The partition on which FerretOS is to be installed (which may or may not be the bootable partition) must also be formatted as FAT16, FAT32 or BTRFS. FerretOS Setup can format the partitions if needed.
To install ReactOS from the bootable CD distribution, extract the archive contents. Then burn the CD image and boot from it.
Testing
If you discover a bug in FerretOS search on FerretOS Issues page and ReactOS JIRA first - it might be reported already there. If not, report the bug providing logs and as much information as possible. You can report a problem on FerretOS Issues page, however if you confirm the bug exists in ReactOS as well it might be a good idea to report a bug as well to ReactOS JIRA. Remember, that FerretOS is not supported by ReactOS Team! Thus, the issue must be reproduced on ReactOS! When reporting bugs directly to ReactOS upstream. always follow their guidelines.
Contributing
We are always looking for developers! Don't hesitate to open a Pull Request.
You can also support FerretOS by donating! It will help in maintaining servers.
More information
FerretOS is a Free and Open Source operating system based on ReactOS, compatible with the Windows NT architecture, providing support for existing applications and drivers, and an alternative to the current dominant consumer operating system.
It is not another wrapper built on Linux, like WINE. It does not attempt or plan to compete with WINE; in fact, the user-mode part of ReactOS is almost entirely WINE-based, FerretOS share WINE code as well.
Why ReactOS fork
ReactOS is a huge project considered as a candidate for Windows replacement. While there are lots of open source operating systems out there, ReactOS is designed to be the first system which is binary compatible with Windows. Since, the NT architecture is not well documented, it is a hard task often requiring reverse engineering methods. ReactOS Team do the great work here, however they sometimes implement new, more or less usable at current development stage functionalities. They don't focus much on overal system stability. There are a lot of bugs, that are causing system instability, which got never fixed as well as many core syscalls that never got implemented. What is more, there are at least several interesting pull requests opened on GitHub by followers which purpose is to make ReactOS better. Unfortunately they are stuck (some for very long time) on core developers. Instead of auditing and reviewing the code, ReactOS Team again focus on some minor functionality. This all gives an operating system that includes very nice features like BTRFS support but on the other hand can freeze unexpectedly.
This lead to the creation of FerretOS - a ReactOS fork - the answer to the real ReactOS needs. Unlike ReactOS, FerretOS focuses mostly on general system stability and its' core functionality, giving thus a great base for further development. Of course ReactOS Team is more than welcome to merge changes made in FerretOS into their codebase.
Code mirrors
The main development is done on CodingWorkshop GIT. Code is available on GitHub mirror as well.